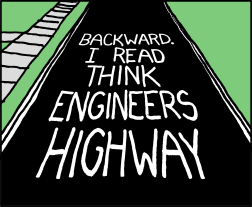 Ahead Stop
(alt-text)
They actually started the reversed-text practice in 1977 -- not for ease-of-reading reasons, but because too many people were driving backward down the highway blasting the Star Wars opening theme.
Still mourning the demise of Google Reader? You can
sign up to get new comics delivered by email
here
.