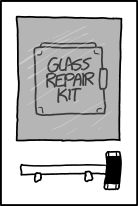 In Case of Emergency
(alt-text)
I keep first aid kits in those emergency lockers. Sure, it's expensive to have them installed in the wall, but at least for those ones there's no need to pay extra for safety glass.
Still mourning the demise of Google Reader? You can
sign up to get new comics delivered by email
here
.