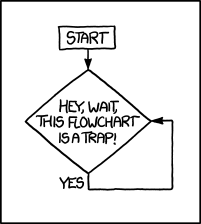 Flowchart
(alt-text)
The way out is to use the marker you have to add a box that says 'get a marker' to the line between you and 'start', then add a 'no' line from the trap box to 'end'.
Still mourning the demise of Google Reader? You can
sign up to get new comics delivered by email
here
.